How to Become a Pharmacy Technician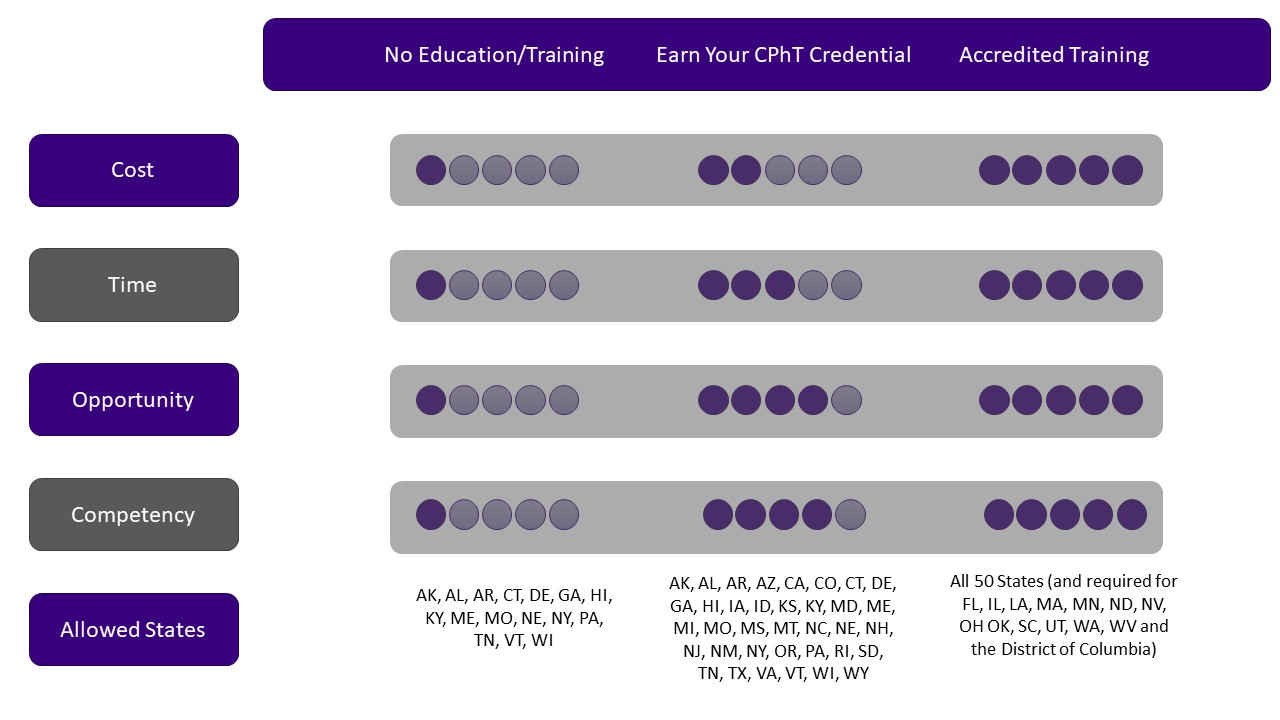 How to Become a Pharmacy Technician: 3 Paths to Success
A career as a pharmacy technician is a great fit for many people. Pharmacy technicians play an important role in patient care, and their responsibilities continue to grow as our healthcare system evolves. Opportunities for career growth exist as there is a career ladder for pharmacy technicians. Alternatively, it can make for a great transitional career while pursuing higher education for more advanced healthcare professions.
There are multiple paths that you can take to start your career as a pharmacy technician. Most states require you to apply for registration or licensure to work as a pharmacy technician. Your options on how to become a pharmacy technician will depend on the Board of Pharmacy regulations in your state. You can find your state's requirements by searching for "(your state) board of pharmacy technician requirements," and clicking on the official board of pharmacy site link that shows up in the search results. For quick reference, view our post on state requirements for pharmacy technicians.
With all of that out of the way, let's review the 3 paths you can take to become a pharmacy technician:
Enter the workforce without training: Become a Pharmacy Technician Immediately
In states that either do not regulate pharmacy technicians or only require basic high school level education, it may be possible to get a job as a pharmacy technician without additional school or training. This is the fastest and cheapest path to become a pharmacy technician. Some employers will accept inexperienced applicants and provide on-the-job training. Instead of paying for school, you get paid and receive on-the-job training which is often more valuable than didactic training. In this scenario, you may start out working primarily as a cashier or performing other limited functions as you train within the employer's training program. Many employer training programs are accredited through the American Society of Health-System Pharmacists (ASHP) or an educational institution accrediting body. Completing an accredited on the job training program allows you to meet the requirements for registration in other states without the cost of completing similar training at a college or training provider.
This approach is limited, however, as employers may have requirements for training or certification that are more stringent than the states in which this approach is feasible. Many employers require national certification (which we'll cover in a bit) or prior experience, so you may find it hard to land a job without completing some sort of training or earning a national certification.
Become a Certified Pharmacy Technician
Several organizations offer national certification for pharmacy technicians that is earned by passing an exam. The most widely recognized is the Certified Pharmacy Technician (CPhT) credential offered by the Pharmacy Technician Certification Board: https://www.ptcb.org/credentials/certified-pharmacy-technician. In many of the states that do not allow you to work as a pharmacy technician without any post-high school education or training, you become eligible for licensure or registration if you earn the CPhT credential. There is a catch, however: to be eligible to take the Pharmacy Technician Certification Exam, you have 500 hours of on the job training or complete a PTCB-recognized training program. You can find a PTCB-recognized training program near you by searching the directory at ptcb.org; our training program is an option that you can complete from home!
This path requires you to invest time and money in a training program, and therefore isn't as fast or limited to the cost of state registration like the first option we presented. However, this path gives you much needed knowledge to excel on the job and makes you a much more attractive candidate when seeking jobs. Additionally, many states limit the activities that a pharmacy technician can perform if they are not certified. For this reason, you will need certification to be a candidate for some jobs and having the credential will likely lead to better pay and opportunities than you would receive without certification. In the states that do require certification but do not require more advanced training above and beyond the CPhT credential, this is a cheaper and faster path than the one we will present next.
Earn a Degree or Certificate from an Accredited School or Training Program
Many community colleges, vocational schools, and other education providers offer degree/diploma or certificate programs for the pharmacy technician role. Some states, as noted above, require completion of a state-approved or nationally accredited training program as part of the registration or licensure requirements. Most states will provide a list of the training programs that they recognize, or specify specific accreditations that a school or training provider must have to qualify. The most commonly recognized accreditation is that provided by ASHP. You can search for ASHP accredited programs near you here: list of programs.
This is the most thorough approach to prepare yourself for a career as a pharmacy technician. By completing an accredited program, you will not only get didactic learning and education about pharmacy and the role of the technician, but you will get hands on training that goes above and beyond what you would experience in more limited education that is tailored only towards the certification exam (like our course). You would be a more attractive candidate for job opportunities due to the depth of your training, and if you combined this with earning the CPhT credential you would likely stand out above other inexperienced applicants.
The drawback to taking this approach is the investment required. Degree/Diploma programs can cost well over $10,000 and take as long as 18 months to complete. Certificate programs are typically cheaper and shorter, but still cost thousands of dollars on average and take 6-12 months to complete. In addition, you miss out on the opportunity to earn income during those months spent training. While the pharmacy technician career is great for many people, the salary range isn't a high enough reward to warrant the higher cost of many programs. If you do elect this approach, or must take this approach due to your state requirements, it would be wise to carefully consider the cost of the program and your financial ability to pay for school and wait for the eventual income you will receive.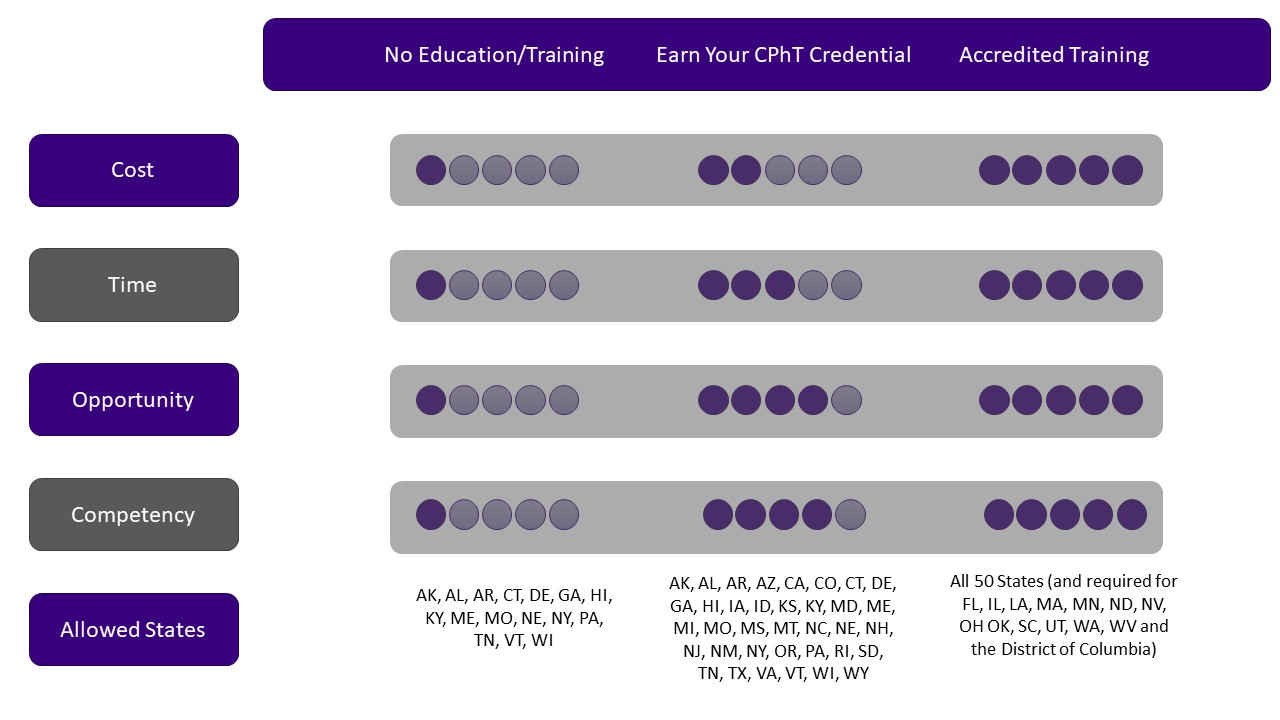 *Please do not use this document as evidence of state requirements for pharmacy technicians. There may be additional requirements to consider and regulations are constantly changing. Refer to your State Board of Pharmacy for specific requirements.
Your best path to become a pharmacy technician is going to depend on the requirements in your state and what works best for you in terms of time, cost, and work opportunities. If you have any questions about the options in your state, join our Facebook Group and post the question!